Chloe, Year 1
Well, as amazing as it seems, it's been a year since Chloe was born (July 3, 2000). It's incredible to see her now, and compare with the pictures when we first brought her home. She is now 22 pounds, and 28 inches tall, in the 90th percentile in height, weight, and head size (yes, they do measure that).
She isn't walking yet, but she is furniture surfing, and crawling like crazy. I've started to introduce her to the word 'No', and am exceptionally pleased that she is handling it well. There have been enough things in the past year to fill a small book, so I'll just list a top few, and some pics.
Some highlights of the past year:
Naming her food bottles of "Shut the hell up" (in humor, of course).

"Flying Baby", where I lift her high up, and she is in my hands, flying around the house like Supergirl.

"Baby Airborne", where she is thrown way up in the air, and caught of course.

My wife and I imagining her calling us "The Giant Morons" for taking 20 minutes to figure out her "I am hungry!" cry.

Rocking her to sleep, to The Stranglers.

Rocking her to sleep, to Pinetop Perkins. The fact that she really likes Pinetop Perkins.

Rocking her to sleep.

The toothless grin.

The 1, 2, 3, 4, 5, and 6-tooth grins.

Many, many, many more...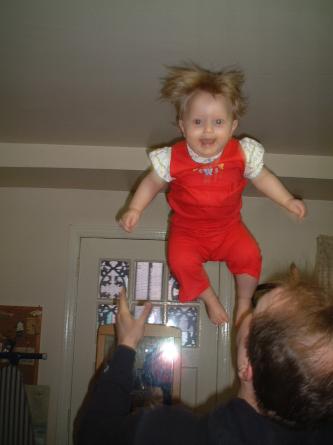 Baby Airborne
Resistance is futile.
I swear, I did not buy her the leather jacket, the Rock Chick T shirt, or the leather skirt (Yes, it is a leather skirt!)
Her Christening
These also represent the only two known pictures in existance, of me smiling.